 KRINNER installs solar power plant in record time
03.06.2015
Completed ahead of schedule – Largest PV power plant in Europe stands on 200,000 ground screws
Krinner Schraubfundamente GmbH has completed the foundations for what is currently Europe's largest photovoltaic construction project even faster than was originally planned. The installation team drove in up to 3,800 ground screws per day and enabled the foundations for the new ground-mounted solar power plant in Cestas near Bordeaux to be handed over four weeks ahead of schedule. To achieve this, KRINNERemployed a combination of GPS-controlled surveying robots and state-of-the-art screw-driving machines. The whole information exchange at the construction site was realised as wireless data transmission and coordinated in the Krinner Cloud. The photovoltaic power plant, which is designed for a peak output of 300 MWp, is expected to be ready for operation by the beginning of September.
Krinner Schraubfundamente GmbH installs solar power plants on ground screws for customers all over the world – with an array of specially developed machines and tailored solutions. KRINNERstarted work on its largest project to date in early December. Four weeks ahead of the scheduled completion date, the over 204,000 galvanised ground screws were already in place. Prior soil preparations ensured a daily progress of 2,000 ground screws on average, despite a period of prolonged and heavy rainfall. This also enabled the approximately 326 kilometres of support frames for the modules to be assembled earlier than expected. The Krinner Flex V support frames are here deployed in a newly developed and especially space-saving East-West configuration. As the spacing between the frames is narrower than usual, special vehicles were developed to optimise the flow of materials. Subsequently, around 8,000 PV modules a day are to be installed through to mid-August – almost a million in total. That equates to a daily installed capacity of up to 4 MWp.
Installation using drones, robots and innovative screw-driving machines
The installation of the solar power plant will be accomplished in record time. "Despite the unfavourable weather conditions, we have been able to realise the individual process steps extremely efficiently," says sales manager Peter Hammer. "We are several weeks ahead of the construction schedule for all aspects of the work." Back in October, specialists from KRINNER conducted advance analyses of the soil conditions. A drone was then flown over the 260-hectare site to gather height data for a detailed 3D model of the local topography, and a GPS-controlled robot completed a survey of the site. From November, finally, state-of-the-art screw-driving machines began to install the ground screws. Thanks to the detailed 3D planning and the wireless communication capabilities of the machines, each ground screw could be driven in to the precisely required height – spot on to the nearest millimetre.
Efficient, high-performance energy generation
The power plant in Cestas is being realised as a consortium project together with two of the leading companies in the solar energy branch. While the Clemessy-Eiffage Group is responsible for the overall construction, Schneider Electric is taking care of operational energy management. The total value of the contract amounts to almost 300 million euros. The region around Bordeaux, in particular, offers ideal conditions for ground-mounted solar installations with around 2,000 hours of sunshine per year and a global solar radiation of over 1,300 kWh/m2. The solar power plant in Cestas will in future deliver more than 360 GWh of electricity per year, which is sufficient to cover the daytime energy demand of the whole population in the city of Bordeaux.
Time- and cost-saving operations in over 50 countries
Worldwide, KRINNER has to date installed plants with a total peak output capacity of over 1,500 MWp. Together, they could supply a whole major city with electricity, or else replace either five coal-fired power stations or the most powerful nuclear power reactor in the world, as Peter Hammer underlines. "We have developed numerous special high-tech machines and have so far submitted over 150 patent applications."
It is not least thanks to the constant further development of machines and technologies that KRINNER is able to realise projects so quickly and economically. The foundations are installed without any concrete whatsoever and are thus especially gentle on the environment.
Cutting-edge technology
KRINNER has developed a diversity of special machines which permit tailored solutions to be implemented for individual soil conditions, gradients and specific wind or snow loads. "Innovation is our daily business," says founder Klaus Krinner from Straßkirchen near Straubing. Since last year, Krinner Schraubfundamente GmbH has also been stepping up business activities in its export sales regions. In addition to the French project, a particular focus is being placed on large-scale solar plants in Japan and the USA.
 Back
Related images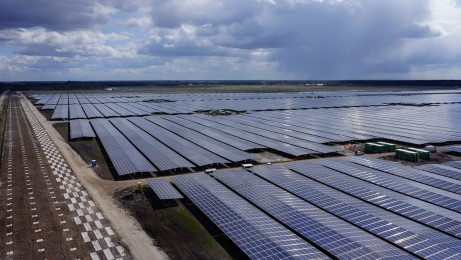 France - Cestas, capacity: 300 MWp, Krinner ground screws: 200.000 | 03.06.2015 | JPG, 15 x 9 cm, 300dpi | 1.5MB